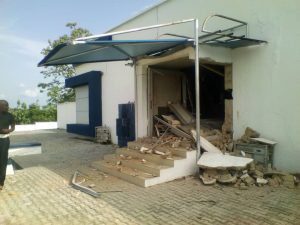 Men of the Nigerian Arny have arrested one of the robbers that raided a Bank in Idoani.
The suspect was arrested by the vigilant soldiers when trying to escape.
The robbers numbering about eleven raided the bank for over two hours, killing six persons and carted away an undisclosed amount of money.
Among those killed is a Police Inspector, two staff of the bank, two customers who were withdrawing through ATM and two others within the bank vicinity.
Five persons who sustained varying degrees of injuries have been rushed to the general hospital, Ido-ani.
Men of the Nigerian army who rushed to the scene came when the robbers had escaped with an undisclosed amount of money.
The bank located at Isewa quarters is the only financial institution in the community
TVC news correspondent, Ayodeji Moradeyo gathered that the robbers carried out the raid with impunity.