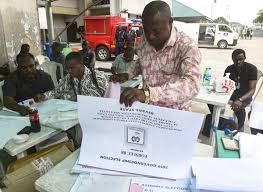 The Independent National Electoral Commission in Bauchi state has halted the resumption of collation and announcement of results for the governorship election in the state following a court order.
The Resident Electoral Commissioner for Bauchi state, Ibrahim Abdullahi, said the commission will decide on the next step to take after Wednesday's hearing of the matter at the federal high Court Abuja. He disclosed this during a brief press conference in Bauchi on Tuesday.
He however explained that the collation and announcement of result for Tafawa Balewa local council as it pertains to the state House of Assembly election will continue.
Earlier today, the Federal High Court in Abuja ordered the Independent National Electoral Commission not ot resume collation of results for the Bauchi state governorship election.