An armoured car in the convoy of the head of a U.N. mission in Yemen's Hodeidah port city has been hit by a bullet.
Both the Iranian-aligned Houthi movement which controls Hodeidah, and the Saudi-led coalition that has massed troops on its outskirts, accused one another of opening fire on the convoy of retired Dutch general, Patrick Cammaert.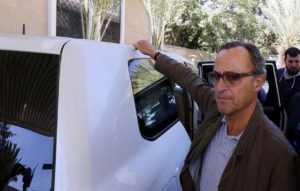 U.N. spokesman Stephane Dujarric said Cammaert and his team were leaving a meeting with representatives of the government of Yemen when the incident occurred.
He told newsmen in New York that the U.N. did not know who fired on the vehicle.
Advertisement

He said Cammaert appealed for calm and a strengthening of the ceasefire in Hodeidah by the warring parties.
The convoy was visiting an area under its control when Houthi fighters opened fire.