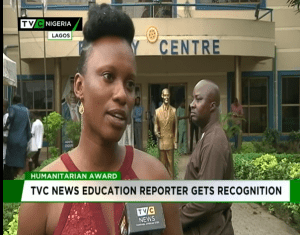 TVC News education correspondent, Sharon Ijasan, has won an humanitarian reporting award for a story she reported on funding basic education.
The award was presented to her by rotary club, Lagos district 9110.
Correspondent Theophilus Elamah reports that the report that got Ijasan revealed the situation of children in African in African Bethel in Ikorodu, Lagos, where pupils learn under a tree.
The report which was recorded in October 2017, got the eye of the government who immediately ordered the demolition of the structure to pave way for a newer and better structure for learning.
Well, the report not only go the eye of the government but that of the Lagos district of Rotary Club.
The award recipient, who spoke on the reason behind the story, expressed her appreciation to the management and staff of TVC Communications, and believed that despite the feat achieved, there's still more grounds to conquer.
Ijasan believes that journalist as a profession can truly make a lasting impact on the society human angle stories remain on the front burner.