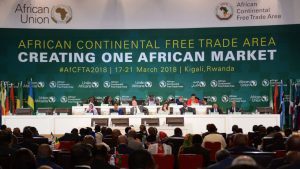 Vice President Yemi Osinbajo said Nigeria must get the best terms for its trade and commerce, if it is to join the Africa Continental Free Trade Agreement. He was speaking at the eight Presidential Quarterly Business Forum in Abuja.
State House Correspondent Mariah Olasehinde reports that the event is the Eight Presidential Quarterly business forum since the inception of this administration and is a forum to engage the Private Sector on issues concerning Nigeria's economy.
The Focus this quarter is on the Export Expansion Grant and the African Continental Free Trade Agreement
Recently President Muhammadu Buhari said Nigeria was yet to sign the African Continental Free Trade Agreement (ACFTA) because of the need to aggregate what Nigerians wanted from the deal.
This view is echoed by Vice President Yemi Osinbajo, who believes there are benefits for Nigeria if she joins the Africa Continental Free Trade Agreement but government must ensure it gets the best possible terms for Nigerian trade and commerce.
Video: https://www.youtube.com/watch?v=-qhRvyIgq_M&feature=youtu.be
The progress so far made in infrastructure is another issue discussed at the meeting and the president's men are at a loss as to why the opposition would choose to criticize this administration for completing abandoned Projects.
While accepting that the agreement would be good for Nigeria in the long run, some stakeholders maintain a lot more still needs to be put in place before Nigeria can sign the agreement.