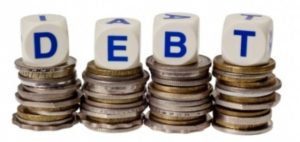 The Federal Government spent N643.6 billion on servicing the nation's domestic debt for January to March, says the Debt Management Office (DMO).
In its Quarterly Debt Data for Quarter one (Q1), obtained from its website on Wednesday in Abuja, it said the figure was the total actual domestic debt service for the three months.
It said N239.8 billion was spent on domestic debt servicing in January, N144 billion in February and N259.7 billion in March.
Giving a breakdown, it said N223.4 billion was interest on Nigeria Treasury Bills/Bonds (NTBs), while N411.7 billion was interest on Federal Government Bonds.
Advertisement

It also said the interest on the Federal Government of Nigeria Savings Bond stood at N241.8 million and that of Federal Government Sukuk was N8.167 billion.
It noted that N279.6 billion of NTBs were redeemed in the first quarter.
According to the data, Nigeria's public debt stock as at March 31, stood at N22.7 trillion with external debt of the Federal Government, states and the Federal Capital Territory (FCT) at N6.746 trillion.
Domestic debt of the Federal Government stood at N12.5 trillion, while domestic debt of states and the FCT stood at N3.38 trillion.
Giving a breakdown of the Federal Government domestic debt stock by instruments, it said Federal Government Bonds was N8.96 trillion (71.32 per cent).
It added that the Nigerian Treasury Bills amounted to N3.3 trillion (26.34 per cent), while Nigerian Treasury Bonds stood at N175.9 billion (1.40 per cent).
Others are the Federal Government of Nigeria Savings Bond of N7.780 billion (0.06 per cent), Federal Government of Nigeria Sukuk N100 billion (0.80 per cent) and Green Bond which stood at N10.690 billion (0.08 per cent).
The DMO's primary responsibility is to manage public debt, this it does by introducing initiatives and products to support the development of the domestic market.
Nigeria issues sovereign bonds monthly to support the local bond market, create a benchmark for corporate issuance and fund its budget deficit.