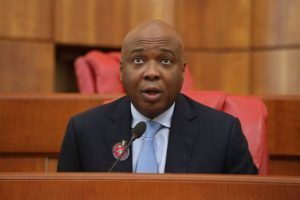 A coalition of Civil Society Organizations (CSOs) in the country have demanded the immediate resignation of the Senate President, Bukola Saraki, following his alleged involvement, as mentioned by suspects in the Offa robbery case.
The group under the aegis of Coalition of Civil Society for Good Governance and Democracy (CCSGGD) insisted that it is honourable for the Senate President to step aside to clear his name.
The group recalled that Saraki's corruption trial with the Code of Conduct Tribunal (CCT), over his alleged non-assets declaration was still ongoing in the anti-graft court.
The Convener of the group, Alhaji Adamu Kabiru, who led other groups including labour unions, trade unions and Joint Action Committee (JAC), at a rally in Abuja on Friday urged members of the 8th Senate to do the needful by immediately impeaching Saraki as Senate President if he fails to resign.
He said such development would bring sanity to the system and restore the lost glory to the upper chamber of the National Assembly in particular, and Nigeria in general.