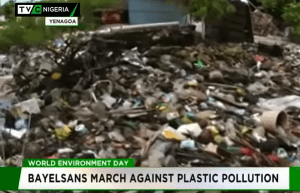 Participants at the 2018 World Environment Day in Bayelsa have called on Nigerians to minimize the use of plastics and also shun indiscriminate dumping in drainage and waterways. Speaking on the theme "Bayelsa: Our Lives Our Future," Governor Seriake Dickson said the state will work to gradually phase out the use of plastics for bio-degradable materials.
Ovieteme George reports that an over two weeks old Chevron fire, had on Monday February 27 2012, left the people of Koluama community devastated, necessitating the visit of former president Goodluck Jonathan and the newly inaugurated governor of Bayelsa Seriake Dickson.
Six years after, Dickson's administration has sustained the fight against the further degradation of the environment, and this time a road walk commemorating World Environment Day on the theme "Beat Plastic Pollution".
The road walk terminated at Dr. Gabriel Okara Cultural Centre where Governor Dickson highlighted some environmental concerns.