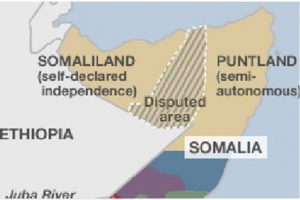 The Somali National Army (SNA) Radio has reported the death of the supreme leader of the Al-Shabaab jihadists Ahmed Dirie Abu Ubeyda.
The broadcaster run by the military, reported that Abu Ubeyda died in Jilib District in Middle Shabelle, about 410km south of Mogadishu.
The report could not be independently confirmed, but the local media outlets have been reporting about the ill-health of Abu Ubeyda and the infighting within the jihadist group over his succession..
A southern Somalia military officer, Mr Ismael Sheikh Isaq, reportedly told the SNA Radio that the army received credible information that the Al-Shabaab leader died of kidney failure.
He gave no date for of the death.
Abu Ubeyda assumed the leadership of the Al-Shabaab in December 2014, three months after his predecessor Ahmed Abdi Godane alias Sheikh Mukhtar Abu Zubayr, was killed in a US drone attack.
The jihadist group has neither confirmed nor denied the alleged death of its supreme leader.
The US is known to have placed $6 million bounty on the head of the Al-Shabaab leader.
The Al-Qaeda-linked Al-Shabaab emerged as the armed wing of the Islamic Courts Union (ICU), which later splintered into several factions after its defeat in 2006 by the Somali Transitional Federal Government (TFG) and the Ethiopian military.
The group describes itself as waging jihad against "enemies of Islam", and is fighting against the Federal Government and the African Union Mission to Somalia (Amisom).