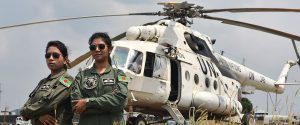 This year, the United Nations celebrates the 70th anniversary of UN peacekeeping, a unique and dynamic instrument to help countries torn by conflict transition to lasting peace.
The theme for the 2018 International Day of UN Peacekeepers is "70 Years of Service and Sacrifice." The Day, 29 May, offers a chance to pay tribute to the contributions of uniformed and civilian personnel to the work of the Organization and to honour more than 3,700 peacekeepers who have lost their lives serving under the UN flag since 1948, including 129 who died last year.
The first UN peacekeeping mission was established in May 1948, when the UN Security Council authorized the deployment of a small number of UN military observers to the Middle East to form the United Nations Truce Supervision Organization (UNTSO) to monitor the Armistice Agreement between Israel and its Arab neighbours.
Over the past 70 years, more than 1 million men and women have served under the UN flag in more than 70 UN peacekeeping operations. More than 100,000 military, police and civilian personnel from 125 countries currently serve in 14 peacekeeping operations.
UN Peacekeepers have long been the best chance for peace for some of the world's most vulnerable people. Their service and sacrifice – frequently under harsh and dangerous conditions– has made the Blue Helmet a symbol of hope to millions of people.
In the early years, UN Peacekeeping's goals were primarily limited to maintaining ceasefires and stabilizing situations on the ground so that efforts could be made at the political level to resolve the conflict by peaceful means.
Those missions consisted of military observers and lightly armed troops with monitoring, reporting and confidence-building roles in support of ceasefires and limited peace agreements. Troops and police came from a relatively small number of countries and they were almost exclusively men.