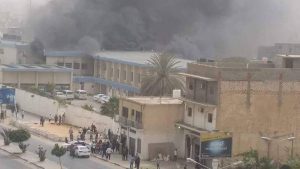 More than 12 people have been killed and several others injured in an attack on Libya's electoral commission headquarters in the capital, Tripoli,when a suicide bomber blew himself up while other armed assailants stormed the building and set it on fire.
Voters have been registering for elections expected before the end of the year in Libya, a country that been in turmoil since Muammar Gaddafi was ousted in 2011.
After his 42-year rule, the country remains under the control of myriad rival armed groups.
Electoral commission spokesman Khaled Omar said three officials and four security officers were killed in the attack. The health ministry later put the number of dead at 12.
Mr Omar said he saw the attackers, including two suicide bombers, storm the building and spotted bombers' body parts strewn on the ground.
He added that security officers had entered the building to respond to the attack in the Ghout al-Shaal district west of central Tripoli.
No group has claimed responsibility but militants with links to the Islamic State group are believed to have maintained sleeper cells in Libya's coastal cities.
This attack is the deadliest and most elaborate of its kind in Tripoli in at least three years.