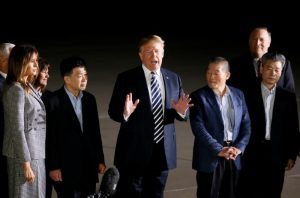 U.S. President Donald Trump has welcomed three former U.S. prisoners at a military base near Washington on Thursday, thanking North Korean leader Kim Jong Un for their release and sounding upbeat on a planned summit between the two sides.
The prisoners, freed after U.S. Secretary of State Mike Pompeo traveled to the North Korean capital, landed at Joint Base Andrews outside Washington, where a giant U.S. flag was suspended between ladders of two fire trucks on the edge of the taxiway.
Trump and his wife, Melania, boarded the plane for about five minutes before the men stepped out, shaking hands with the president and waving to waiting media and military personnel.
"Frankly we didn't think it was going to happen and it did," Trump said after thanking Kim for releasing the men.
"We're starting off on a new footing. This is a wonderful thing that he released the folks early."
Trump said he believed Kim wanted to bring North Korea "into the real world" and was hopeful of a major breakthrough at their planned meeting.