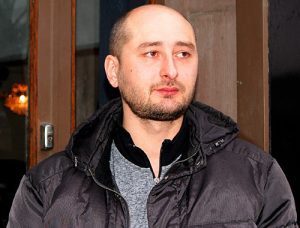 A prominent Russian journalist and critic of President Vladimir Putin has been gunned down in Ukraine where he had fled into exile following threats.
Police say Arkady Babchenko died of his wounds in an ambulance after his wife found him covered in his blood in their home.
The authorities say they suspect the murder was due to Babchenko's professional activities.
Babchenko, one of Russia's best-known war correspondents, had left Russia fearing for his life after criticising Russian policy in Ukraine and Syria.
He had been denounced by pro-government politicians in Russia over comments on social media about the Russian bombing of Syria, and over his characterization of Russia as an aggressor towards Ukraine.
Russian Foreign Minister Sergei Lavrov has rejected Ukraine's allegation that Moscow was behind the murder of Arkady Babchenko in Kiev.
Ukrainian Prime Minister Volodymyr Groysman said in a social media posting late on Tuesday he was convinced that what he called "the Russian totalitarian machine" had not forgiven Babchenko for his honesty.
Lavrov, who called Babchenko's killing a tragedy, said the allegation was nonsense and a continuation of what he called Kiev's anti-Russian course.
Babchenko's murder was the fourth of a Kremlin critic in the Ukrainian capital in two years.
None of the other murders, which Kiev has also blamed on Russia, have been solved.
In a statement, the Russian foreign ministry said journalists were being killed with impunity in Ukraine.
The Investigative Committee of Russia said it had opened a criminal case into Babchenko's death.