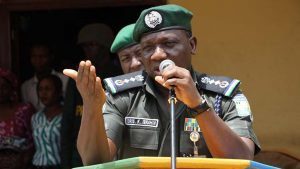 Inspector-general of police, Ibrahim Idris, has failed to appear again before the senate for the third time.
Idris was expected to appear before the senate on Wednesday, over the growing security concerns in the country and the case of Dino Melaye, senator representing Kogi west.
The first time the IGP was invited to appear before the lawmakers, he accompanied President Muhammadu Buhari to Bauchi state.
The second time he was expected to show up at the senate, he went to Birin Gwari, Kaduna state, on a working visit.
Meanwhile, the senate are now in an executive session to discuss the IGP's failure to appear before it.
At the end of the closed-door session, the Senate will take a decision on the appropriate sanctions to melt out.