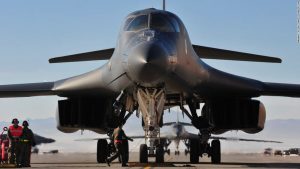 The U.S. Department of Defense has released video showing U.S. Air Force maintenance Airmen and aircrews conducting final checks on a B-1 bomber before launching to strike chemical weapons targets in Syria.
The United States, France and Britain launched 105 missiles in retaliation for a suspected poison gas attack in Syria a week ago, targeting what the Pentagon said were three chemical weapons facilities, including a research and development center in Damascus' Barzeh district and two installations near Homs.
The bombing was the biggest intervention by Western countries against Assad and his superpower ally Russia.
The three countries said the strikes were limited to Syria's chemical weapons capabilities and not aimed at toppling Assad or intervening in the civil war.