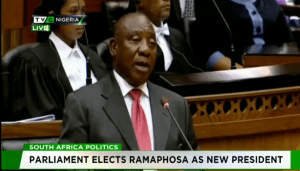 South Africa's parliament  has elected Cyril Ramaphosa as new president after the resignation of former president, Jacob Zuma following intense pressure by his party over alleged corruption.
Earlier, Chief whip of the ruling African National Congress said the office of the chief justice had made itself available to officiate in the business of electing a new president.
The African National Congress, which has a large majority in parliament, nominated Mr Ramaphosa, a wealthy former businessman, "to be elected as the new President of the Republic of South Africa".
Members of the party brought out into song and dance after his election.
The road back to prosperity and self-respect under Mr Ramaphosa, who became ANC head in December, will be long and hard in a nation divided by race and inequality.
But Mr Zuma's departure offers evidence of the strength of South Africa's institutions, from the courts to the media and the constitution.
Zuma resigned after heeding orders by the ruling African National Congress to bring an end to his scandal-plagued nine years in power.
Some Cape Town residents said it was about time Zuma stepped down for the country can move forward.