The current horrifying spectacle reminds one of how in December 2011, some armed Fulani men invaded a village
somewhere on the Plateau at the dead of night, burnt their huts to ashes and used nets to "capture" those running for their dear lives, only to be hideously hacked to death with daggers, axes and cutlasses, as if they were some sacrificial fowls., coupled with the recent killings in Nigeria.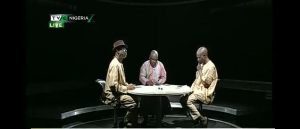 On this note, head of TVC News Nigeria, Babajide Otitoju, during the popular TV show 'Journalist Hangout' shared his opinions on the frequent attacks by herdsmen and recent killings as well as corrupt practices becoming norms in Nigeria.
Read more: Benue killings: State buries 73 Killed By Fulani Herdsmen, over 18,000 displaced – Govt
On 'man's inhumanity to man', he said, "If anyone loves the President, he should tell him to handle this herdsmen matter decisively, if not, his popularity will go down. He must show wisdom in handling this matter, it is a big national embarrassment…….We have become laughing stock all over the world with the needless killings going on in every part of the country. President @MBuhari must rise up and address the killings in every part of Nigeria. If the Nigerian state likes, let them not brand these herdsmen as terrorists, the world has already branded them terrorists and rates them number 4 in the world."
Read more: 15 killed as herdsmen, farmers clash in Adamawa
He continued…."I have not seen the softening of position on the part of Fulani herdsmen. Miyetti Allah are not helping their cause by rejecting Cattle Colonies. Even the statement issued by Miyetti Allah and the other group has shown that the IG lied (that the violence is communal), I'm used to big men lying in Nigeria."

"I am happy that less than 24 hrs after I challenged the president to call a stakeholders meeting on the Benue killings, the President scheduled the meeting. After the meeting, he has to ensure that the killers are arrested and made to pay the price for the mindless killings. Nigerians want decisive action taken against those who are spilling the blood of largely innocent people across the country. The moment the killers are been prosecute people for slaughtering others, then the rest will take caution. They must be punished accordingly because there is no offence as bad as taking other peoples life

"My advice is that President Muhammadu Buhari should change his style before perception becomes reality."
On corrupt practices in Nigeria, the Ace journalist said: "A corrupt judge is worse than an armed robber. Many of those lawyers accusing Mike Ozekhome also defended corrupt people. We know those of them who defended James Ibori, Alamieyeseigha and others. It is a lie to say Gani Fawehinmi never defended corrupt people. In 1984, defended Peter Obasa and Folorunsho Kila, who were eventually jailed for looting the NYSC.
Read more: Corruption probe : Abia State Chief Judge indicted for misconduct
"However, the Chief Justice of Nigeria should no longer head the National Judicial Council, if we want to sanitise the judiciary and People should stop deceiving themselves by giving the impression that there is no single good person in the @OfficialPDPNig . But I have not seen any sign that @OfficialPDPNig will return to power.

If Mr President sacks two or three of his selfsh aides, there will be sanity in his government. He knows who to sack."
He concluded by saying: "President Muhammadu Buhari should listen to Nigerians on the streets. They are the people who can tell him the truth, not those sycophants praising him for their selfish gains."
What are your thoughts on this?