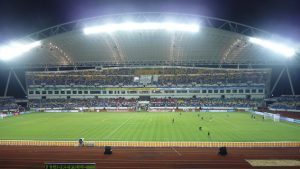 Three professionals and 13 home-based players have made the final list to the 2018 Nations Cup for men, which takes place in Gabon from January 17 to 28.
The three professionals are Adamolugbe Oladunjoye (Qatar), Ani Obinna (Morocco) and Kalu Philip (Israel). The home-based players are Joseph Udale, Adamu Aminu, Ogedegbe Chris, Amadi Emmanuel, Samuel Samora, Aliyu Aminu, Mudashiru Abdulmajid, Sallau Saka, Solomon Michael, Akande M Temitope, Emeana Emmanuel, Iortyer Stephen and Osas Michael.
The team will be led by coaches Mgor Michael Taangahar (head coach), Solomon Yola (assistant coach) and Segun Tunji (goalkeeper trainer).
Technical director of the Handball Federation Nigeria (HFN), Ferdinand Emeana yesterday said that the final list was drawn up after a thorough two-phase training exercise, which took place in Lagos. He stated that the coaching staff and the players know the enormity of the task ahead; and are ready to do well in Gabon.
Emeana revealed that the team would travel to Benin Republic and Togo for training where they would play four trial matches. In Benin, the Nigerian team will lock horns with the Beninoise national team and the Flowers of Cotonou, while they will play the Togolese national team twice before departing for Gabon.
The Technical Director, who is also accompanying the team to Gabon, noted that the Nigerian side would make a serious impact at the tournament considering the training they got before departing the country.
"I am aware that some teams are in Europe and other parts of the world preparing for the Nations Cup, but I am sure that we will make an impact in Gabon. This is the best training and screening exercise we have had in a long time and hopefully it will propel us to fantastic performances at the tournament," Emeana added.
He also said that the team would be hoping to pick a World Cup ticket at the tournament. The first three teams will qualify for the World Cup.
Nigerian begins its campaign against Angola on the opening day of the championship.