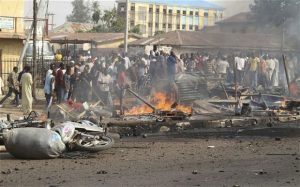 Sixteen persons, including three suicide bombers have died, in multiple attacks in Maiduguri, the capital of Borno State.
In one of the attacks, a male bomber detonated an explosive at a bus station, killing himself and 13 others.
Five persons were injured.
The same station was attacked two months ago, in an incident where two people were killed.
Two other female suicide bombers injured 13 persons at another part of town.