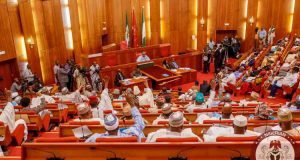 Supporters of suspended Senator representing Borno South, Ali Ndume have begun a one week countdown as they await his resumption to the Nigerian Senate next week.
Addressing journalists in Abuja on Monday, the constituents of Senator Ndume, who was the former Senate Leader, say they anxiously await his resumption from the six month suspension earlier slammed on him by the Senate for linking Senate President Bukola Saraki with corrupt practices.
Ndume's supporters say Borno South suffered lack of representation at the Senate due to his absence, which deprived war ravaged communities of a voice in parliament.