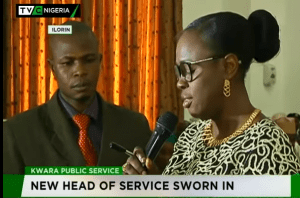 Kwara state governor, AbdulFatah Ahmed has challenged newly sworn in head of service, Susan Oluwole, to let experience count in the running of the state Civil Service.
The governor also says the new Head of Service needs to come up with innovations that will move the service forward.
He promised that his administration will continue to provide the needed environment for the civil service to thrive, while hoping workers will repay government's investment by being efficient and productive.
Susan Oluwole is the 2nd female Head of Service in Kwara state.