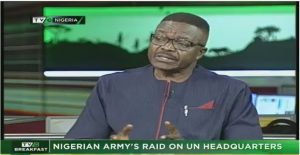 Major General Abiodun Role (Retd) has said, "One of the most difficult operation any military can embark in the world is counter terrorism, because you can't say this is where they will be the next day. And on a serious note, over coming Boko Haram is quit challenging, we need the help of the citizens.
"It is also more tasking when you have family members as a member of the dreaded group because of what they are gaining from it." He made this statement during the TVC Breakfast show on Tuesday.
At present, the Boko Haram terrorism marks a major threat to the survival of Nigeria. Major concluded his interview segment saying, "concludes that, to effectively address the uprising, Nigeria should adopt a human security approach rather than the current emphasis on a repressive state security approach."
What are the possible ways you think Boko Haram can be countered?