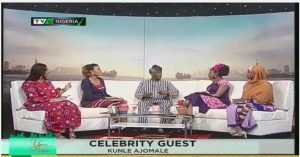 Evergreen musician whose name was Ajomalemasemale but now Jacob Kunle Ajomale is set for
his 30th year anniversary as a gospel musician this weekend with his very former school mate, Lagos state governor Akinwunmi Ambode.
The musician whose song won the Census jingle in 1993 and the 1987 Mass Mobilization jingle for the then Bendel State government was born in Lagos on May 4th 1963 to the family of late Pa Elder Isaac O. Ajomale and Prophetess Mrs. Florence A. Ajomale (nee Coker) both natives of Ogun State,
He said on Friday during the TVC Yourview Show that, "I have been a musician all my life and so far I have no regret been one. Even when I travelled to United States in 1997 for musical tour where I released two albums titled "Always By My Side"(ABMS) and "Great Testimony". I was never carried away by my success, and for records while in America I was privileged to tour 33 States out of d 50 States in the USA" revealed Ajomale whose marriage that was solemnized in 1993 and blessed with children. Now with eight(8) albums to his credit and has composed several Evergreen songs such as "LEHIN JESU KOSENIKAN", "DAMUSO", "JOWO MUMI DELE RE", "EMI ATI ARA ILE MI" etc.
This year 2017 marks will mark me Jacob Kunle Ajomale (JKA) and The Zion Ambassadors Band 30years on stage. And as part of the celebration we will be opening a Musical Studio and embarking on a Talent Hunt for up and upcoming artistes, because it hurts me when I realise that people no longer do research before singing, all they do is pinging, pinging, pinging. The basic truth is one needs to do research and come up with resounding music. I do not have any regret pursuing music even though my friends have chosen another part and are now richer."
He continued saying: " One need to know the word of God before singing. Music is about the message not the melody . I have performed for many dignitaries such as: The late Chief Obafemi Awolowo, Chief Olusegun Obasanjo (former president of Nigeria), Oba of Epe, Oba of Badagry, Mr Jerry Rawlings ( former president of Ghana, Alhaji Abubakar Atiku (Former vice president), Oba Abiodun Oniru, Pastor Enoch Adeboye and others too numerous to mention, and I pray that my former school mate,  Akinwunmi Abode will grace the event in person."
He concluded his interview segment with an advice for pastors acquiring wealth while their parishioners lavish in poverty and go hungry daily. He said:" I know some pastors may not invite me to their church, but I must speak the truth. It is not Christ like to acquire so much wealth, how can you have 5 jets and yet you have people living in penury in your church, think twice."