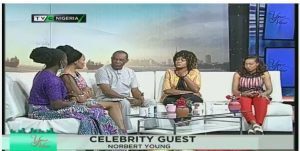 Nollywood actor, Nobert Young has frowned on those insulting President Buhari for his current health situation and absenteeism at work.  He said: "It gives me headache when people open their dirty mouth to insult Buhari"
The actor who made this statement during the TVC YourView show on Friday also said, "Nigerian youth should embrace what they have and as for me, my life has never been better in the country."
He frowned at the insult on the President following the vice President's pronouncement on 'hate speech'.
The Acting President, Yemi Osinbajo, who equated hate Speech to terrorism, made this known at the National Economic Council security retreat held at the Presidential Villa in Abuja. He said the intimidation of a population by words or speech is an act of terrorism and will no longer be tolerated by the President Muhammadu Buhari administration. He warned that the government intends to take the matter seriously.
Advertisement

Nobert continued saying: "You should stop requesting his return and pray for him to return and stop using harsh words on the President. Use the infrastructural facilities available to you to better your life instead of insulting those in power."
What is your take on this?