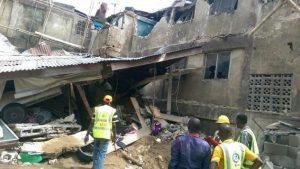 A three-storey building collapsed in Owerri, the Imo state capital on Sunday, killing four persons.
Six others were injured in the tragedy that occurred at 9 Egbu road, by fire service junction in the capital.
Although the state emergency management agency is yet to issue an official statement on the incident, the landlord whom the state police command say is at large, added two more floors to the building without approval, causing a "structural" defect, according to reports.
Chris Ezike, the state commissioner of police, said no arrest has been made.