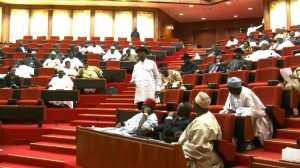 The Senate has accused the Ministries of Justice, Finance and Interior of obstructing the country's anti-corruption campaign through inactions that may cause Nigeria to be blacklisted from global financial intelligence organisations within the next five months.
The parliament has now set up an urgent mechanism for the drafting and passage of a new law to grant independence to the Nigeria Financial Intelligence Unit to meet up the December deadline set by the global agencies.
The resolution followed the suspension of Nigeria from the Egmont Group, a network of 154 member countries that share information relating to financial intelligence and investigations that deal with money laundering, terrorism financing and economic crimes.
The motion was moved by the Chairman of the Senate Committee on Anti-corruption who accused the executive of playing games with Nigeria's anti-corruption policies.
Advertisement

The Senate further directed its Anti-Corruption Committee to begin work on a bill and present it to plenary within 4-weeks.
In the event of an expulsion, Nigeria will no longer be able to benefit from global financial intelligence hence affecting it's financial transactions with the outside world.