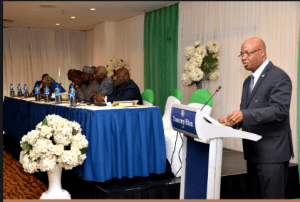 Acting President Yemi Osinbajo has expressed Nigeria's full support for the reform process that will enable the African Petroleum Producers Organization rise up fully and adapt to the changing global realities and the global economic order.
He disclosed the at the Opening Ceremony of the Extraordinary Session Of The Council Of Ministers Of The African Petroleum Producers Organization.
State House Correspondent Mariah Olasehinde reports that Osinbajo said that the Organization, after thirty years of service to member countries, should be able to fashion out and implement a bold programme of reforms, which should be able to place its members at an advantage in the global economic order.
He believes that reforms being presently pursued by the Body are a step in the right direction
On his part the host minister Ibe Kachikwu assures that all members of APPO are clearly signed on to the need to reform and reorganize the organization but what is important is how those changes will go.
Osinbajo who declared the Ordinary session open, also unveiled the Logo of the Nigeria Petroleum Summit while announcing that From February 2018 Nigeria will host annually a world class International Petroleum Summit  in Abuja.