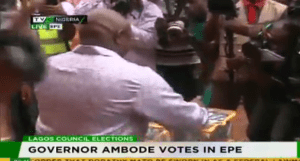 Lagos State governor, Akinwunmi Ambode, has commended the Lagos Independent National Electoral Commission, LASIEC and the Security agencies participating in the Saturday Local government elections for ensuring peaceful conduct of the exercise.
The governor gave this commendation shortly after casting his ballot at the Ogunmodede College Polling Unit in Epe at about 10am in company of another APC leader in Epe and former commissioner for transportation, Lanre Rasaq.
Ambode said: "Voting has commenced in almost every part of the state and it has been very peaceful. What I can tell our people is to exercise their franchise peacefully without fear or intimidation. Our government has put in place measures that will guarantee successful elections."

Speaking on the turn out of voters, the governor said the turn out has been impressive especially in the polling unit where his cast ballot and other parts in the Epe town.

"The turn out of voters has very impressive as you can see and the situation is not different in other parts of Epe. We've received reports from other parts of the state too and the process is going peacefully.

"The large turn out as you've seen here is an indication that people are happy with government and our party. They are satisfied with the programmes and policies and they want to continue at the grassroots level," Ambode said.
Ambode however urged every stakeholder to maintain the ongoing peaceful conduct throughout the whole exercise.
Similarly, the former commissioner for transportation and a chieftain of the All Progressives Congress in Epe, Lanre Rasaq has described the large turn out recorded across the Epe community as the acceptance of the Ambode-led government in the state. He described the Ambode led government as infrastructure builder that has transformed as part of the state within two years.
" The large turn out you are witnessing today, once again  shows that Lagosians remained committed to the Ambode-led administration and our party, the All Progressives Congress, APC."
Responding to question on why only two parties are contesting the elections in Epe, the APC chieftain said:
"It will be an effort in futility for PDP to have contested in this election, knowing-fully well that the Akinwunmi Ambode-led government has performed excellently well. So, they (PDP) are not ready to waste their resources – human and materials."