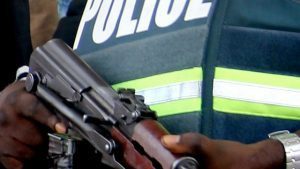 The Federal Government has stated that it intends to set up policy for the establishment of community policing.
The policy which would be introduced soon would help address the issue of manpower in the Force and also address security challenges.
 To attain the United Nations one policemen to 100 citizens, it was also disclosed that Nigeria needs 1.8 million personnel of the Force.
The Ag. President, Yemi Osinbajo disclosed the need for the establishment of Community policing in Abuja yesterday during the launch of a book, "Law on Prevention and Detection of Crimes by the Police in Nigeria" authored by the former Inspector General of Police, Solomon Arase.
The Ag. President who was represented by the President's Special Adviser on Political Matters, Babafemi Ojudu said: "There is no way we can continue with the way we are policing now and the federal government is looking carefully at the issue of community policing and very soon, we would come out with a policy on that.
Advertisement

"We have to look at other parts of the world when we are doing it, sitting down in Abuja by an IG and policing the remote parts of the country and being in charge of the welfare of all the policemen across length and breadth of the country doesn't seem to be working.
"We all have to agree to look at this. There are concerns and challenges and they will be addressed. In the 80s, whenever you talk about private television and radio, everybody gets jittery but some people took the bull by the horn and we are getting the best for that decision today. We have to take our fears away."
The federal government also tasked elites to encourage their children to join the Force.
 "If we want a very good, active and efficient policing, we should also try as elites to encourage our children to join the Nigeria Police Force. If we want effective policing and believe that they are actually protecting us, we should also spare our offspring to join the police and do a good job."
He also revealed that some retired senior police officers would be engaged for proper implementation of the policy across the country.
"As for the retired IGs and police officers, you may have a role to play very soon for us to depart from this old way of policing our country. It does not seem like it can work and it is not working".