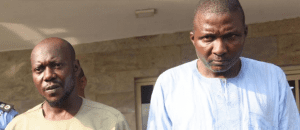 Lagos State governor, Akinwunmi Ambode on Thursday approved the suspension of the traditional ruler of Shangisha in Magodo, Chief Yusuf Ogundare for faking his kidnap which allegedly took place on July 5, 2017.
In a memo with reference number OLGAS.83/S./Vol.1 dated July 13, 2017 addressed to the Sole Administrator of Ikosi-Isheri LCDA and signed by the State's Commissioner for Local Government and Community Affairs, Hon Teslim Folami, Governor Ambode directed Ogundare to stop parading himself henceforth as the Baale of the community till further notice.
According to the memo, Folami said: "I am directed to convey the approval of His Excellency, Governor Akinwunmi Ambode of the suspension of Chief Yusuf Ogundare, Baale of Shangisha with immediate effect in accordance with Section 38 subsection 1 of the Obas and Chiefs Laws of Lagos State which states that "the Governor may suspend or depose any Oba or chief whether appointed or after commencement of this law, if he is satisfied that such suspension of disposition is required according to customary law or is necessary in the interest of peace and good government.
"You are to communicate the decision to the chieftain to stop parading himself as Baale of Shangisha with immediate effect," Folami said.
Ogundare's suspension was approved by the Governor moments after the Lagos State Police Command paraded him alongside his younger brother, Mohammed Adams for conspiring to fake the alleged kidnap.