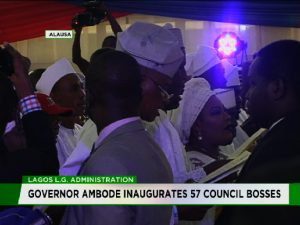 Lagos State governor, Akinwunmi Ambode, has inaugurated the newly elected chairmen of the 20 local governments and 37 local council development areas.
Their inauguration came with a mandate from governor Akinwunmi Ambode to deliver their promises to the electorate.
The newly inaugurated council bosses were elected on Saturday after the local government elections in the state.
Correspondent, Adedoja Salam-Adeniyi reports that the newly elected chairmen took oath of office and oath of allegiance on their new position in the presence of their family members, legislators, executive, Obas and chiefs.
Governor Akinwunmi Ambode told the new leaders that it is time for hard work and the fulfillment of  promises made to the people.
On flooding in Lagos, the governor said the era of uncontrolled dredging is over and that the State Government will now take firm control of its inland waterways and the adjoining lands including all sand dredging activities.
Kamal Bashua of Lagos Island east took the vote of assurance on behalf of the chairmen.