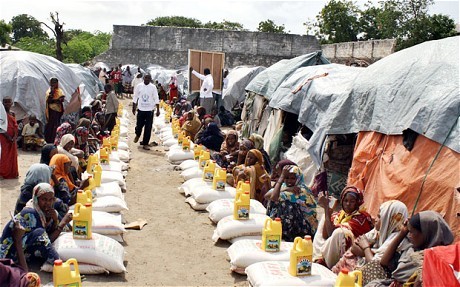 To mark Commonwealth Day, Nigeria's house of representatives Speaker, Yakubu Dogara, has pledged to rally the support of the 360 lawmakers in the lower chamber, for moral and financial assistance, to internally displaced persons.
The Speaker further underscored the importance of peace across the world.
National Assembly Correspondent, Joke Adisa reports that to commemorate this year's Commonwealth Day, the House of Representatives Committee on Refugees interfaced with four IDP camps in the FCT.
Before the Speaker and other legislators are representatives of the six hundred and eighty seven pupils of the four make shift schools.
They are being tutored by a non profit civil society organisation in its determination to give them a new lease of life.
Messages of hope from the Queen of England and the Clerk of the National Assembly came handy for the children.
In line with this year's theme tagged 'A Peace-Building Commonwealth', Dogara charges every citizen to take part in the search for solution to Nigeria's challenges, especially those bordering on insecurity, kidnapping and militancy.
A heart rendering speech is delivered by the organisation taking care of the IDPs education needs.
The education centre is named School Without Walls and the organisation gives reasons for that name and this elicits some commitment form Speaker Dogara
For these children, their hope for a better future has rekindled and they wait anxiously for the redemption of the pledge that has been made in order to forge ahead in their endeavours.
Ultimately, they say, their wish is to return to their ancestral homes as change agents for a peaceful society.