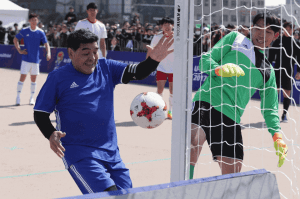 Diego Maradona has attempted to recreate his infamous "hand of God" moment from the 1986 World Cup during a light-hearted five-a-side exhibition soccer match in Suwon, South Korea.
The match was held to mark the draw of the FIFA Under-20 World Cup, being conducted by Maradona and fellow-Argentine star Pablo Aimar, in Suwon.
Midway through the game, Maradona leapt in the air as he did during Argentina's 1986 World Cup quarter-final against England and attempted to punch the ball into the net.
This time, his "hand of God" moment met with far less success than it did more than 30 years ago – the ball missed the goal, and then the referee saw the offence and "booked" him.