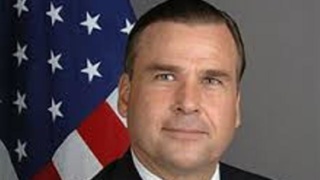 It has been suggested that Nigeria needs the support of Nigerians to get out of its present economic challenges.
The American Ambassador to Nigeria gave the advice while highlighting the significance of peoples support for the government.
He noted that success in democracy does not happen when people depend on government but when government depends on the people.
He shared his experience with a Nigerian who told him that Nigeria was once a food basket of the continent.
He believed that if Nigerians unite and work towards repositioning the country by contributing their quota to the development of the country through regular payment of tax and commitment to sustainability of the Agricultural value chain, the county will bounce back.
The ambassador also noted that an ideal society is where rule of law prevails and adequate security is guaranteed.
The Federal Government has disbursed one billion naira to Imo State as grants for small and medium scale businesses.
The Economic Adviser to the Imo State Governor, Iyke Njoku says the money will be given as loans to promote small scale businesses in the state.
According to him, Imo State had applied for two billion naira but was granted one billion naira, adding that the balance would be granted in due course.