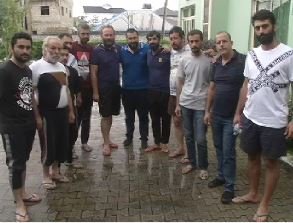 Ten kidnapped Turkish sailors onboard a cargo ship off the coast of Nigeria have regained their freedom.
The victims were kidnapped on the 16th of July.
The release of the sailors was secured following the intervention of an advocacy group, "The Riverine Peace Initiative In Niger Delta".
Ovieteme George reports that kidnapped two hundred nautical miles off the coast of Nigeria three weeks ago, the ten sailors were among eighteen crew members onboard a Turkish cargo vessel on its way from Cameroun.
The expertriates were dropped off at the water front of Otuogori, a community in Ogbia Council Area of Bayelsa State.  One of the negotiators thinks that there is foul play from suspected collaborators in the francophone country.
Selcuk Esenyel representing the owner of the vessel worked with members of the "Riverine Peace Initiative in Niger Delta" to secure the release of
Turkish seamen.
Still shaken by their three-week ordeal in the hands of their abductors, the seamen declined to make any comment.