The Federal Government has commended the Indian Government for her contributions to the development of Nigeria's teeming young through scholarships and various exchange programs.
The Permanent Secretary, Federal Ministry of Sports and Youth Development, Alhaji Ismaila Abubakar made the commendation in Abuja when he received a delegation from the Indian High Commission, led by its Ambassador to Nigeria, His Excellency, Shri G. Balasubramanian.
He noted that Nigeria recognizes and values the long-standing partnership between the two countries, which has greatly benefited to the country's socioeconomic development, particularly in the fields of sports, education, automobiles, oil, and steel, among others.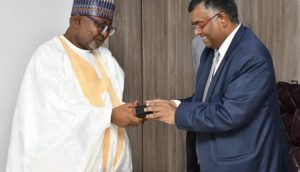 The Permanent Secretary assured that Nigeria, through her Ministry of Sports and Youth Development, will work with India to ensure the success of the International Day of Yoga, which is set to take place in Abuja on Sunday, June 17, 2023, with the goal of providing mental and physical well-being for participants and Nigerians in general.
While calling on the Indian Government to maintain its long time bilateral relationship with Nigeria, Alhaji Ismaila expressed optimism that the President Ahmed Bola Tinubu-led Administration will continue to create an enabling environment for more symbiotic relationships with other countries, especially in the area of youth and sports development, promising that the Ministry will mobilise its staff as well as sports loving Nigerians to participate in the event.
The Indian Ambassador to Nigeria, Shri G. Balasubramanian stated that his visit to the Ministry was to further seek partnership and support towards the successful hosting of the International Day of Yoga, adding that Nigeria and India's bilateral relationships have spanned decades covering such areas as education, sports and culture among others
He added that Yoga is an annual global event organized by the Indian Government to train persons, students and youth on mental and physical wellbeing for the socio-economic development of their countries.