Mass protests erupted in Isreal a day after Defence Minister Yoav Gallant was sacked by Prime Minister Benjamin Netanyahu for breaking ranks with the government and urging a halt to a highly contested plan to overhaul the judicial system.
Following news of Mr Gallant's sack on March 26, tens of thousands of protesters, many waving blue and white Israeli flags, took to the streets late at night across the country.
Crowds gathered outside Netanyahu's home in Jerusalem, at one point breaching a security cordon.
In announcing Gallant's dismissal, Netanyahu's office did not name a replacement nor give any other details.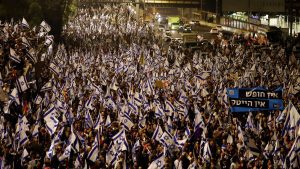 Gallant on Saturday became the most senior member of Netanyahu's right-wing Likud party to say he would not support the judicial overhaul, saying protests that have included growing numbers of military reservists were also affecting regular forces and undermining national security.
Netanyahu made the decision to sack Gallant after the former navy admiral warned on that the overhaul plans risked "a clear, immediate and tangible threat to the security of the state" and called for them to be halted.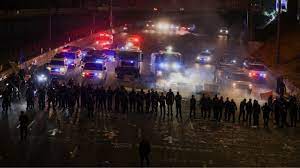 Netanyahu acted in response on Sunday night as he was poised to ratify a central part of the overhaul package, a bill that would tighten political control over judicial appointments, handing the executive wider freedom to name judges to the Supreme Court.
As protesters poured into the streets, police used water cannons to push them back from Netanyahu's residence in Jerusalem, while in Tel Aviv, where hundreds of thousands have taken to the streets since the beginning of the year, protesters lighted several bonfires on a main highway.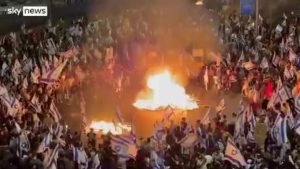 The United States said it was deeply concerned by Sunday's events and saw an urgent need for compromise while repeating calls to safeguard democratic values.
The crisis came as Israel's security establishment has been bracing for potential violence in the coming weeks as the Muslim holy month of Ramadan overlaps with the Jewish Passover and the Christian Easter celebration.