The Code of Conduct Bureau, (CCB), says over one and a half Million Asset Declaration Forms have been filled completely by Public Officers in Nigeria and returned to the Bureau in the last one year.
According to the bureau, this is the consequence of teaching Public Employees through its Strict Compliance Training Program.
Professor Mohammed Isah, the Bureau's Chairman, announced this at a one-day sensitization session titled "Fighting Corruption in Nigeria: The Past, Present, and Future."
The Presidential Advisory Committee Against Corruption (PACAC) hosted the event, which took place at the National Judicial Institute in Abuja, Nigeria's capital, and was attended by all anti-corruption bodies.
Professor Isah said the Bureau, over the last seven years has carried out sensitization programmes in various Ministries, Departments and Agencies (MDAs) aimed at increasing education and reducing corrupt tendencies.
"With the fact that over a thousand cases investigated and prosecuted by the Bureau are still pending and awaiting trial at the Code of Conduct Tribunal, this hinders efficiency and output of the Bureau", Professor Isah said.
He expressed hope that with the amendment of the CCB and CCT Act, the Tribunal will be decentralized into zones to facilitate quick dispensation of justice.
"There is the need for collaboration among anti-corruption agencies and where necessary efforts should be appreciated and acknowledged", he added.
Professor Itse Sagay, Chairman of the Presidential Advisory Committee Against Corruption (PACAC), stated in his remarks that the committee has been able to coordinate and synchronize anti-corruption measures since its inception on August 15, 2015.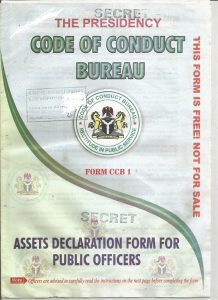 The Secretary to the Government of the Federation SGF, the Solicitor General of the Federation, Army Chiefs, High Court Judges, Heads of Paramilitary Organizations, Civil Society, and others attended the program.