The Miyetti Cattle Herders as well as other development and rights groups in the country are insisting that the military admits to the January 24th incident in Nasarawa state, where many herders were killed.
They are also seeking compensation for those affected as well as immediate proscription, disbandment, arrest and prosecution of the Benue State Governor's Livestock Guards.
Representives of the Miyetti Allah Cattle herders association as well as development and rights groups, lamenting what they call unfair treatment of herders over the years.
They are particularly worried about the January 24th airstrike in Nasarawa where herders lost their lives.
The group is now seeking that the military admits to the mayhem, issues an apology , while compensation is given those affected.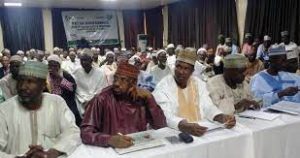 The group blames the constant movement of the herdsmen on climate change, which has affected the Lake Chad region and which the authorities have done nothing to address.
It says states have put in place laws targeted at chasing out pastoralists and banned open grazing without adequate alternatives.
This is alongside seizing cows, arresting herders and billing them exorbitant amounts.
On January 25, a military drone shot and killed over 40 herders and butchers in Rukubi village, Doma, Nasarawa state.
Before their deaths, according to MACBAN, the pastoralists paid a fee of N29 million and returned their 1,250 animals that had been seized by the Benue State livestock guards to Makurdi earlier in the day.
MACBAN described the silence as reprehensible and a lack of regard for the loss of lives of ordinary Nigerians.
The victims were "victims of high handedness of Benue State Government and the personnel of the Makurdi-based Operation Whirl Stroke who deployed an aircraft/drone," according to the statement.
The group says the Benue State government's establishment of a Tiv militia known as livestock guards, and enforcement of the anti-grazing law, targets herders in the State, amidst suits challenging it in court.
It says the similar steps have been taken in Ondo and Taraba States.
The group is worried that neither the Federal nor Benue State Governments has offered any explanation or offered consolation since the January 24th incident.
It wants thousands of livestock and herders held by the Benue livestock guards to be released.