The Nigerian Defence Headquarters has urged the media to be more professional in discharging their duties, especially on matters concerning national security.
Brigadier General Tukur Gusau, the Acting Director of Defence Information, stated this during his official takeover as Director of Defence Information in Abuja, Nigeria's capital.
General Tukur Gusau also thanked the media for its unwavering support for the Armed Forces in national development.
General Gusau added that "since general election is coming, media should not cover anything that would harm the morale of the troops and the credibility of the Armed Forces as they work towards aiding other government agencies to achieve peaceful and credible operations around the country".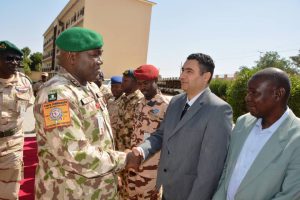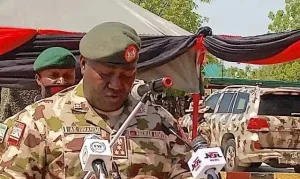 He noted the new appointment of the outgoing Director Defence Information as the Director Personnel Services; Nigerian Army Headquarters is a well deserved honour.
General Gusau, urged the media to accord him the same respect given to the former Director.
Earlier, the outgoing Director Defence Information, Major General Jimmy Akpor, who is now the Director Personnel Services, Nigerian Army Headquarters, said that "there is understanding between the military and the media of what the responsibilities of the military and that of the media to inform to educate the society which of course, improve, informing the public about activities of the process".
General Akpor noted that he was helped by the Chief of Defence Staff in forging and enduring relationship with the media not a relationship that guides the media but a relationship with a consciousness that the military and media have a role to play in creating a peaceful environment for all citizens to aspire to and live their dreams.
He emphasised the truth about the Armed Forces of Nigeria as the group that has done great exploits in restoring peace in the North east amongst other achievements due to dogged efforts of the military.
He urged the media to accord the same respect to the new Acting Director Defence Information.