The Speaker of the Anambra State House of Assembly, Uche Okafor, has urged for the approval of the Disability Rights Bill throughout Nigeria.
He made the announcement during the 2022 International Day of Persons with Disabilities, which was held in Awka, the state capital.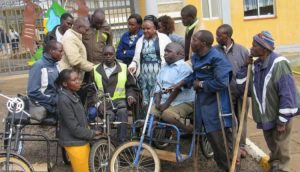 Okafor stated that the Anambra State legislature has subsequently passed the Disability Rights Bill, which aims to integrate people with disabilities into full participation in state activities and promote their well-being.
He, therefore, called on various governments and Houses of Assembly in the country to formulate policies and legislations aimed at providing a better life for persons with disability.
Okafor, who commended Governor Chukwuma Soludo for accommodating persons with disability in his government, enjoined well-meaning citizens to commit part of their wealth to address the challenges facing people with disability in their localities, nationwide.
The Speaker also urged people with disability to live above all forms of discrimination and stigmatization and utilize their God's given talents in their various areas of specialization to improve their conditions.