Ondo State Governor, Rotimi Akeredolu, says the advent of COVID-19 pandemic in the world and insurgency in Nigeria have worsened the problems of insecurity and unemployment.
Governor Akeredolu said profitable and optimal engagement of the youth is crucial to a desirable future, adding that they constitute the largest percentage of the population.
He spoke at the Exco Chambers of the Governor's Office while receiving participants of the Senior Course 45 programme of the Armed Forces Command and Staff College, Jaji, who are on Study Tour of Ondo State.
The 46-man team was lead by the Faculty Leader, Commodore Promise Dappa.
Appreciating them for finding Ondo State suitable again for the Study Tour, Governor Akeredolu noted that the importance of the topic of the Study Tour, "Youth Unemployment and National Security", cannot be over-emphasised.
He explained that the challenges of insecurity and unemployment are hydra-headed not only in the country but in the world at large.
Governor Akeredolu said the prevailing unemployment in the country has now made some youth to seek greener pastures abroad.
He added that there is correlation between unemployment and insecurity, stressing that all hands must be on deck to address the problems.
Governor Akeredolu reiterated the need for state police, saying the stand of his administration is that a police command in Abuja can not serve the nation of 300 million people.
Earlier, the Faculty Team Leader, Commodore Promise Dappa, explained that the purpose and objective of the study tour is for the participants to visit selected states every year to study the prevalent socio-cultural, socio-economic and security challenges in those states.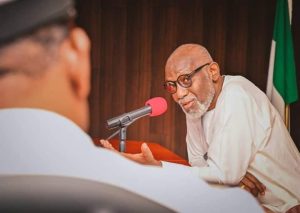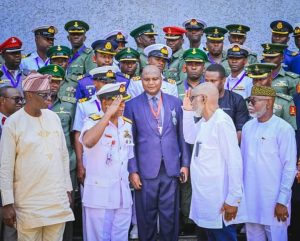 He added that it is to also see the efforts and various actions taken by the various state governments towards addressing those prevalent challenges.
Ondo State Governor, Arakunrin Oluwarotimi Akeredolu, has been at the forefront of the move to establish the Amotekun Corps officially known as the Western Nigeria Security Network and has on occasions been up in arms against the Federal Government over the issue of Security.