The newly elected president of the Nigerian Football Federation NFF Ibrahim Musa Gusau was received by large crowd Supporters and lovers of sport in his hometown Gusau, the Zamfara capital.
This is the first home coming by Ibrahim Musa Gusau since his emergence as the President of the Nigerian Football Federation on 30th September, 2022
The new NFF President who holds the traditional title of Kigon Gusau is in the state to pay homage to the emir of Gusau HRH. Ibrahim Bello, the Zamfara Deputy Governor, Hassan Nasiha and also to thank his supporters and officials of the Zamfara State Football Family
On his arrival to the state, he was recieved in Furfuri Junction in Bungudu, along Gusau – Sokoto road
He then visited the emir of Gusau to seek his fatherly advice and royal Blessings
He later visited the State Deputy Governor Hassan Nasiha at his personal residence to pay home and seek for his blessings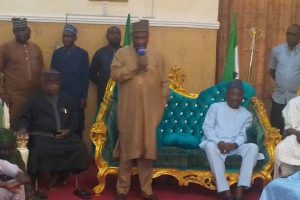 Ibrahim Musa Gusau says he his Happy being home after a victorious outing in Benin City, Edo state where he was elected the NFF President
The Emir of Gusau and the Zamfara Deputy Governor Hassan Nasiha also expresses joy to recieve one of their own who has made them proud
The duo also expresses optimism that Ibrahim Musa Gusau will deliver perfectly on his ma date as the president of the Nigerian Football Federation NFF.
Ibrahim Musa Gusau is also expected to address his teeming supporters and lovers of football at the Command Guest inn, Gusau.
It would be recalled that Ibrahim Musa Gusau emerged Victorious at the just concluded NFF Election in Benin last week.