Hours after Joe Biden was sworn in as the 46th president of the United States, he signed an executive order to rejoin the U.S. into the Paris climate agreement, his first major action to tackle global warming as he brings the largest team of climate change experts ever into the White House.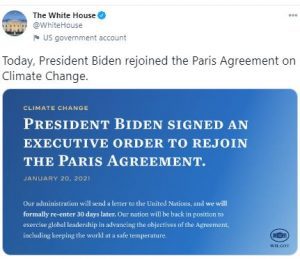 Biden's executive action, signed in the White House on Wednesday, will see the U.S rejoin the international effort to curb the dangerous heating of the planet, following a 30-day notice period.
The world's second largest emitter of greenhouse gases was withdrawn from the Paris deal under Donald Trump.
The climate change accord saw 143 countries, including the U.S, agree to limit global temperature increases to less than 2 degrees Celsius.
The flurry of first-day action on the climate crisis came after Biden, in his inauguration speech, said America needed to respond to a "climate in crisis".
Joe Biden has previously warned that climate change poses the "greatest threat" to the country, which was battered by record climate-fueled wildfires, hurricanes and heat last year.
The Biden administration also intends to cancel the permit for the construction of the Keystone XL pipeline from Canada to the U.S. and sign additional orders in the coming days to reverse several of former President Donald Trump's actions weakening environmental protections.