The position of Director-General of the World Trade Organisation is now officially vacant following the resignation of Brazil's Roberto Azevêdo.
Roberto Azevêdo's resignation comes early as his tenure was set to end in 2021.
Mr. Azevêdo had in May announced at a virtual meeting of all World Trade Organisation Members that he would step down from the role effective August 31 after seven years as Director-General of the global trade body.
The outgoing DG who expert said left behind a 'hobbled body,' cited the reason for stepping down as "personal."
"Today we bid farewell to WTO Director-General Roberto Azevêdo. His work over these past seven years, heading the Secretariat and representing the Organization, is much appreciated," WTO said on Monday.
Mr. Azevêdo in a statement said, "It has been an immense honour to serve as WTO Director-General. My message as I end my tenure: The multilateral trading system is as its architects intended a fundamental pillar of global peace and prosperity.
"Rules-based trade remains a source of order and predictability in international economic relations. This drives investment, growth, development, and job creation – all of which are more critical than ever."
The erstwhile DG called for the continuation of the reform process at the multilateral body, adding that the WTO would stay responsive to the needs of the global community.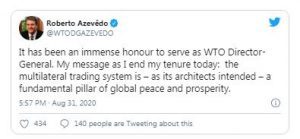 The U.S had last year December paralyzed the body's ability to settle disputes by blocking the appointment of judges to its appellate body.
U.S President Donald Trump had occasionally dubbed the body as "broken" and "unfair."
The WTO has seen eight contestants vying for the DG role, but experts have said that new leaders need 'global status.'
Possible replacement for the position includes; Jesús Seade Kuri, Mexico; Ngozi Okonjo-Iweala, Nigeria and Abdel-Hamid Mamdouh Egypt.
Other contestants are; Tudor Ulianovschi, Moldova; Yoo Myung-hee, Republic of Korea; Amina C. Mohamed, Kenya; Mohammad Maziad Al-Tuwaijri, Kingdom of Saudi Arabia and UK's Liam Fox.