The Chief of the Air Staff, Air Marshal Sadique Abubakar, has restated the commitment of the Nigerian Air Force to ensuring security in the Northeast of the Country, working in concert with sister Services and other security agencies.
He disclosed this on Sunday while on an operational visit to the Air Task Force (ATF) of Operation LAFIYA DOLE in Maiduguri,.
The Chief of Air Staff also  inaugurated a newly constructed Aircraft Hangar, which is large enough to house 12 Alpha jets along with associated equipment.
Speaking further during the inauguration, Air Marshal Abubakar remarked that his frequent visits to the Northeast Theatre were aimed at keeping constantly abreast of activities of the Air Task Force with a view to ensuring that frontline personnel have the support they deserve and that their welfare needs are met for enhanced professional performance.
Advertisement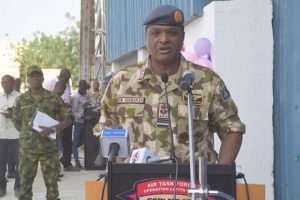 He therefore expressed delight to again be in Maiduguri to interact with the troops as well as to encourage them to remain committed to their duties while being proud of the sacrifices made to ensure that Nigeria is secured and its people protected from the purveyors of evil.
"The Headquarters on its part, would continue to provide the requirements of the Air Task Force to sustain its effectiveness in the performance of its assigned tasks.
"We will do everything humanly possible to provide all your requirements to ensure you are effective in the discharge of your duties." the CAS assured.
Air Marshal Sadique Abubakar  commended the Commander Air Task Force as well as his subordinate Commanders, officers and men of the Air Task Force for their efforts, noting that there was no other alternative than to put in their very best to defend the Nation and its values.
He urged them to continue to work hard and remain focused on the task of ensuring that Nigeria's territorial integrity was not undermined, whilst avoiding distractions from unscrupulous individuals and subversive elements.