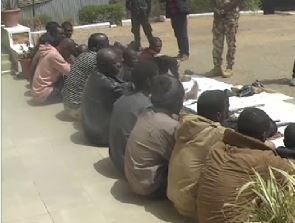 The special taskforce, Operation Safe Haven, has paraded a suspected Boko Haram terrorist and other criminals disrupting the peace in Plateau state.
Commander of the taskforce, Augustine Agundu, says the suspects were arrested in different locations within and outside the state after intelligent reports.
Different types of weapons, laptops, phones and large sums of money were among items recovered from the suspects.
He assures that all of them will be handed over to the appropriate law enforcement agencies for prosecution.