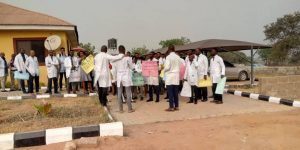 Resident doctors at the University of Ilorin Teaching Hospital have commenced a seven-day warning strike over issues they say hamper service delivery and welfare of their members.
The management of the hospital assured that all issues raised by the doctors are being addressed.
The warning strike was declared on Monday following what the doctors consider as unfavourable working conditions.
They accused the management of the hospital of overworking the resident doctors and prioritising the employment of non-medical staff.
They are also agitating for provision of basic infrastructure that will facilitates accreditation for their training.