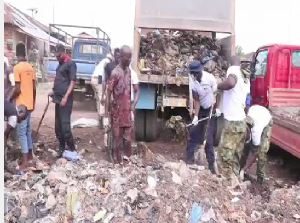 The 32 Artillery Brigade of the Nigerian Army in Akure, embarked on an environmental sanitation exercise at Irele market, in Irele Local Government Area of Ondo State.
The environmental sanitation carried out by men of Exercise Crocodile Smile IV, involved the clearing of refuse in and around the market, as well as renovation of toilets and boreholes.
Ayodeji Moradeyo reports that  the sanitation exercise is one of the key components of Operation Crocodile Smile IV, launched two weeks ago.
The operation is designed to be inter- agency and inter-service driven. It was carried out in Ode-Irele market, in line with the directive of the Chief of Army Staff.
Men of the 32 Artillery Brigade, Akure carried out the exercise with other security agents at the market, including reactivation of toilets, which
were abandoned since 2011.
They were also involved in clearing of refuse in and around the market with other security agents.
The Commander of 32 Artillery Brigade, Brigadier-General Zakari Abubakar said Ode-Irele was selected for the exercise, due to the needs of the
people. He urged the people to make judicious use of the facilities provided.
Brigadier-General Abubakar urged the people to embrace peace and shun violence under any guise.
Chairman of Irele Local Government Area, Akinbiola Nicholas promised that the facilities would be used accordingly. The Operation Crocodile Smile IV, which started on 8th of November, will end on 23rd of December.