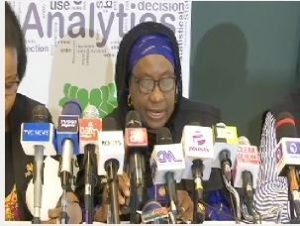 Observer groups have urged President Muhammadu Buhari to intervene in what they described as a decline in the sanctity of the electoral process in Nigeria.
Speaking to newsmen in Abuja from their Election Analysis Centre, the observers scored the elections in Kogi and Bayelsa states below expectations.
Correspondent Habidah Lawal recalled that in the build up to the exercise, the actions and inaction of interested parties, had raised doubts among keen watchers including observer groups that the elections may not go smoothly.
They were not far off the mark with reports of ballot box snatching, intimidation of voters, massive rigging and sundry electoral malpractices, recorded in both states.
The Centre for Democracy and Development said the sanctity of the ballot was put to test in Kogi state. It said despite the massive deployment of security, there were still reports of electoral malpractice taking place.
On the Bayelsa state election, YIAGA Africa, called on the Independent National Electoral Commission to properly audit the process in the state.
Many of the observers believe a timely response by the electoral umpire will determine the timeline for possible post-election cases.